Autumn 2021 // Book update
Here is my overdue update on the book project.
It's been a while since the last one and there are many of things to share with you.
This one is rather long. Check the key facts here:
The book needs a bit more time as the original time frame was very optimistic.

Recent projects provided valuable outcomes which will make the book even better.

No need to worry. I am still on it and did not abandon the project.
My summer has been unusually busy this year. I have been involved in quite a few practical wind turbine building courses and on-site projects and spent a good portion of the summer either on the road or with preparation and afterwork for those projects with little time to rest in between.
My original plan was to have a finished book by late summer of 2021 as I have pointed out in the campaign back then. It turned out that this was a rather ambitious time frame for my first book project.
I had some good time last winter and spring during Covid lockdown to work on book related stuff such as drawings, design tasks and some text. Considerable progress was made during that time.
When summer came and the lockdown was lifted, I had some long planned practical course projects ahead and they required a lot of work. Actually, there were more projects than usual this year because some have been postponed from last year due to covid restrictions in Austria.
So I did some work on the book in between those projects whenever possible and even considered turning some project Inquiries down to get more time for the book. However I do rely on practical courses as they are an important part of my occupation and my mission of making the world a better place through practical hands-on empowerment.
So I want to be honest and fully transparent here with you, as you have supported this project and that means a lot to me. I have also been in personal email contact with some of you and could learn about your background and interest in renewable energy and self sufficiency. Something I really enjoyed!
The situation is now as follows: 
The book is not ready for deployment at this point. However, I will do more work on the book from now on as the major practical projects are pretty much through for this year and I have more time resources in autumn. I hope everything runs smoothly and no major interruptions occur.
It's hard to predict an absolute date for the book release since it is an ongoing project and progress may be influenced by many things. In any way, I will keep you posted here.
Now I want you to know that I am still on it and did not abandon this project or turn away from it. It remains my main objectives and I am motivated to finish it as soon as possible. I just had to learn that good stuff takes its time. Many people ask me if they can buy the book or preorder it – that alone is great motivation for me and you can rest assured that I keep working on it.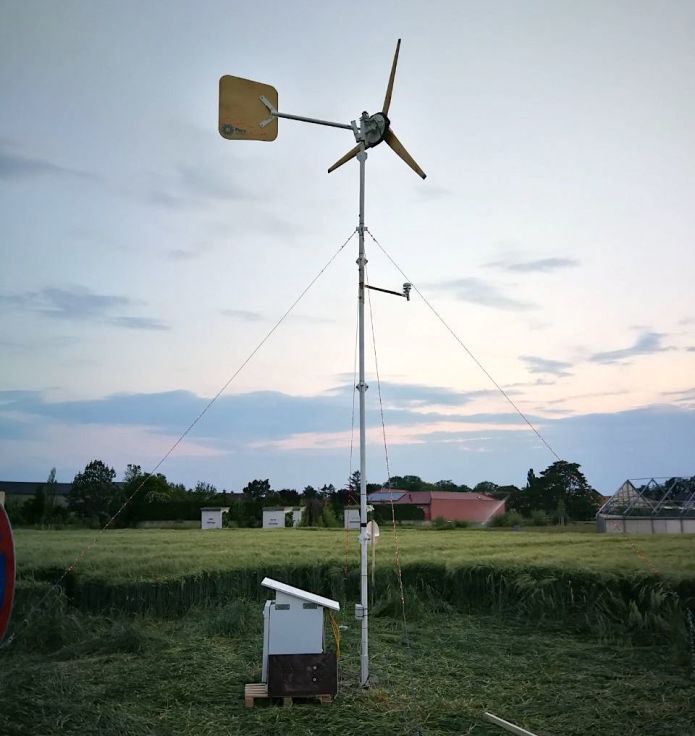 Turbine performance testing on our temporary field test site in Austria during summer 2021.
I choose to see the situation from a positive perspective.
Although it would have been great to have a finished book by now, there are some positive aspects that come with the delay:
During those field courses and projects in summer I paid particular attention to relevant details in the workflow of wind turbine building and I found stuff that was worth improving and some troubleshooting tricks to include into the book. I've also tried some new design upgrades and improvements on the turbine design itself which turned out great.
The turbines built in those recent projects were of multiple sizes and system voltages and even included some fully custom-built machines. These had specifically adopted voltage ranges for MPPT power curve tracking using certain grid-tie inverters. Basically, I could field test all kinds of things and learn some good stuff. The book will benefit from that a lot!
Last but not least I did some measurements with friends from an Austrian University on a test site with a 2.2F / 600W turbine using the latest blade and generator design. This data is very useful as it shows that all the calculations and predictions are correct and the turbine is working as expected, or in our case even better. That turbine data is also relevant for the creation of MPPT power curves for those turbines.
Thanks again for your support and endurance. Stay tuned.
Jonathan
Originally published on the Piggott wind turbine DIY book crowdfunding campaign on Indiegogo.